As Queensland's leading novated leasing provider, we're very "motorvated" about helping our customers to minimise their environmental footprint.
One way you can do this is by choosing a more sustainable, eco-friendly car to drive.
With more and more RemServ customers opting for an eco-friendly car, it's clear that an increasing number of people are as "motorvated"as we are. Are you ready to join them? Our large dealership network boasts a large range of low-emission vehicles that will suit most budgets and lifestyles.
If you're still not sure, we're here to run through the basics, so you have everything you need to make a confident choice.
Electric Vehicles 101
An electric vehicle, or (EV), runs at least partly on electricity. There are several types of EVs, but the most common are battery electric vehicles (BEVs). No petrol is required for BEVs as they run solely on the electricity-charged batteries. BEVs are easy to spot because of the absence of an exhaust pipe.
Another common EV type is what's known as a plug-in hybrid vehicle (PHEV). These operate on an electric motor as a first port of call, but once the battery is out of power they will switch to a petrol-powered engine.
EV Trends
Electric vehicle sales are currently low in Australia – accounting for less than 2% of the overall new car market – but recent trending along with industry forecasting suggests this may change significantly in coming years.
Indeed, the global EV market is booming, rising by more than 40 percent to 3 million new vehicles sold in 2020 – even with a slump in overall car sales.
Despite Australia currently lagging behind global trends, a 2021 survey by the Electric Vehicle Council of Australia found more than 50% of respondents would consider an EV for their next car, and just under 50% see themselves driving an EV by 2030.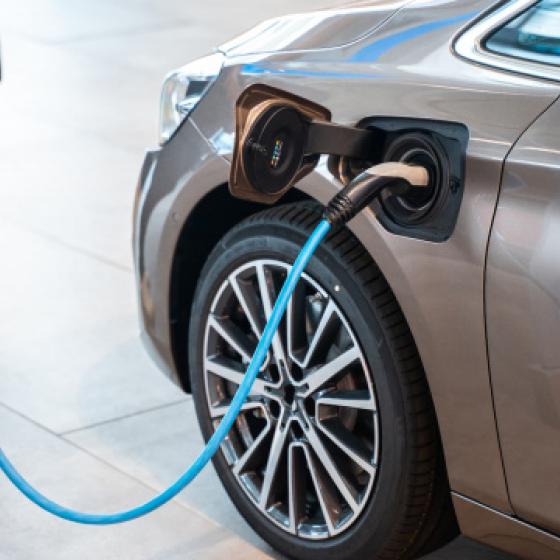 The Potential Benefits of Electric Vehicles

Environmental
By burning zero – or less – fuel, EVs also emit fewer or no emissions.

Potentially cheaper
EVs cost on average 70% less per kilometre than a petrol-powered car, while servicing costs are less.

Better comfort
Electric motors are noiseless, making for a quieter and smoother drive.

Renewable
Newer EV models have the potential to put electricity back into a household or the grid, potentially helping you to save on your energy bills.

Energy security
Help reduce Australia's imported fuel bill – freeing up funds that can be invested locally instead.
Electric and Hybrid Vehicle Offers
If you're keen to explore an electric or hybrid vehicle for your next car, tap into RemServ's vast buyer network. We have access to a large range of vehicles available on novated lease, helping you to not only enjoy the convenience and potential financial savings of novated leasing, but also to help you do your bit for the environment.
RemServ novated leasing on an eco-friendly vehicle: The Features and Potential Benefits

Buying Power
Leasing an electric or hybrid car through RemServ could get you to get access to some of the best deals and manufacturers across the country. You could also save GST on the purchase price and some of your running costs.

Convenience
Because your payments are partly sourced from your pre-tax salary, your taxable income could be reduced, and you may have more money to spend on other things.

Easy Budgeting
Our consultants will work with you draw up a manageable budget covering all your expenses in one regular payment. No more bill-shock!

Your Account, Your Way
The RemServ App lets you check your balances, change your details and allows on-the-go flexibility with claiming.

RemServ Advantage
RemServ will do the legwork for you – from sourcing your electric vehicle and negotiating a great price to managing the paperwork, including finance and any insurances.

Ongoing Support
Enjoy peace-of-mind access to RemServ's MyCar Customer Service and Maintenance teams.
Common Myths: Eco-Friendly Vehicles
There are many misconceptions about electric vehicles. We dispel five of the most common.
"They cost too much"
The upfront costs of electric vehicles are currently more expensive than conventional petrol vehicles, however things swing back in the other direction thereafter: powering an EV costs an estimated 70 per cent less per kilometre.

This is because EVs have lower running costs than regular cars: they have no engine, transmission, head gasket, filters or spark plugs. 

Battery EVs also don't require petrol or diesel. By way of a comparison: the average Australian driving 15,000 kilometres a year typically spends more than $2,000 on fuel; an EV covering the same distance costs around $600 depending on your electricity charges – that's an annual saving of $1,400
"One charge doesn't get you far"
Electric vehicle technology is constantly evolving. While the Electric Vehicle Council of Australia states that current EVs have an average battery range of nearly 480km, some newer models can get 550km on a single charge. 

With the average Australian driving 38 kilometres a day, an EV owner who carries out a typical short trip each day could go for 10 or more days without needing to recharge, depending on their EV. 
"It's difficult to charge them"
Most new electric vehicles include an entry-level charger which simply connects to a typical electricity power outlet at home. Public charging solutions are also available across Australia. The Electric Vehicle Council of Australia website lists all available charging stations around Queensland and the rest of the country, including the types of chargers.
"Charging takes too long"
While entry-level chargers supplied with electric vehicles can take up to 30 hours to fully charge a vehicle, there are other options that reduce this timeframe. You can purchase higher capacity chargers available at an optional cost which can get the job done much more quickly. 

Public chargers also can be much faster – with super-charge stations potentially adding up to 300 kilometres of range in 10 to 15 minutes, and regular charging stations often doing the job in less than five hours.
"They lack power"
Electric vehicles have the capacity to deliver full torque instantly, allowing them to accelerate faster than regular vehicles.
They can also provide better handling and cornering due to the gravity-lowering placement of their batteries at the bottom of the vehicle.
FAQs
Got more questions about a novated lease on an electric vehicle? Read on.
Keen to find out more about a RemServ Novated Lease?
Whether you're ready to get started or need more information, we're here to help.