Vehicle offers
Holden Acadia LT
AC Auto 2WD
The masculine, all-seasons Acadia is all about versatility. That means space, configuration, flexibility, safety — and more than a smattering of good looks. The efficient seven-seater is also a great family car, with seven airbags and a five-star ANCAP safety rating. 

With on- and off-road adaptability, and packing in 231kW of power from its 3.6-litre engine, the Acadia is a winning addition to the large-SUV segment.
Offer valid until 30 Sep 2019*

Please note: The content of this page is provided to you on the condition that you undertake all responsibility for assessing the accuracy of the content. RemServ gives no guarantee and accepts no liability for the quality, safety or standard of motor vehicles or parts referred to or the truth or accuracy of the information contained on this page except to the extent required by law including, but not limited to, consumer guarantees under the Australia Consumer Law. You acknowledge that any images shown on this page are for illustration purposes only and may not be an exact representation of the motor vehicle on offer. The specifications you choose may affect the price you pay.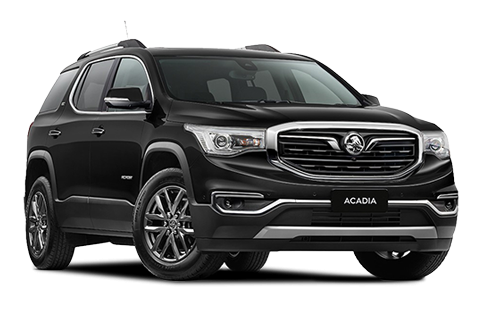 5 Door SUV
6 Cylinder, 3.6 Litre
Sports Automatic, Front Wheel Drive
Petrol - Unleaded ULP
8.9 L/100km
5 Star ANCAP Safety Rating
Manufacturer's drive away price 1
43,990
Vehicle price with RemServ from 2
39,385
Terms and Conditions
Eligible vehicles must be ordered by the offer end date (as stated per vehicle) and delivered within 30 days of the offer end date.
1Manufacturer's drive away price includes, 12 months registration, 12 months compulsory third party insurance (CTP), dealer delivery charge for metropolitan areas, stamp duty and GST.
2Vehicle price with RemServ includes 12 months registration, 12 months compulsory third party insurance (CTP), dealer delivery charge for metropolitan areas, stamp duty, fleet discounts and GST savings. Displayed vehicle price with RemServ is only available through a novated lease. Your lease payments under a novated lease will also take into account the finance cost, the vehicle running costs (based on the lease term and kilometres selected). The quoted amount finance with RemServ does not include any optional extras. Any additional optional extras that you choose will affect the cost to you. The vehicle price with RemServ is the amount we pay to acquire the vehicle to lease it to you. If you purchase the vehicle on termination of the lease, GST is payable on the purchase price you pay at that time.
Privacy Statement: RemServ is committed to protecting the privacy and rights of its customers. Our Privacy Policy contains important information about how we collect, hold, use and disclose personal information. It explains what happens if we cannot collect your personal information, as well as how you can access and correct the personal information we hold about you or make a complaint. If you do not wish to receive promotional material from us, or would like a copy of our Privacy Policy, please contact us on 1300 73 66 62.
This website contains general information and doesn't take your personal circumstances into account. Please consider whether this information is right for you before making a decision and seek professional independent tax or financial advice. The availability of benefits is subject to your employer's approval. RemServ may receive commissions in connection with its services.
Did you know
With a RemServ novated lease you may save up to $2,000 per year?